Hidden Treasures of the Black Range:
This may be the most interesting lost treasure story you'll ever read.
It all began when Marshall Bulle, and his childhood friend Larry Ditzer, began searching for an old cannon seen by cowboy Walt Nichols high up in New Mexico's rugged and mysterious Black Range. That cannon, which we filmed out of a helicopter after looking for it for over twenty years, led to the discovery of the location of one of the most sought-after lost gold mines in the Southwest. There are hundreds of outstanding color photos in this 278 page hardbound stitched book that document this unbelievable yet true story.
Click here to learn more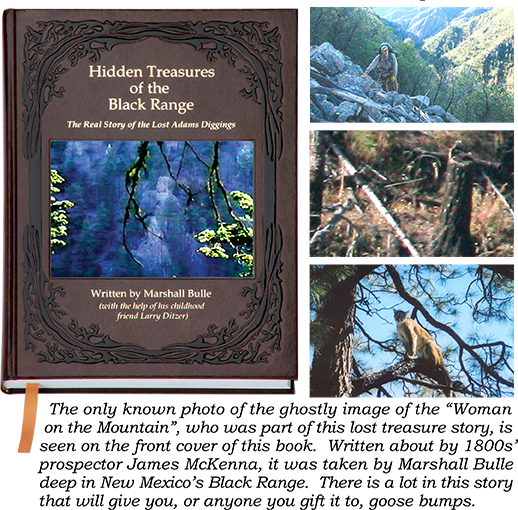 Wyatt Earp -The Lost Story:
This fascinating 80 page report can be read here online or printed out.
When you buy "Hidden Treasures of the Black Range" on this site you can get the spiral bound copy of this full color report at no extra charge by checking the box next to your order. This meticulously well documented story of one of America's greatest treasures (that has been hidden from public view for well over a century)
can be purchased by itself for $19.00 plus shipping
. The magnificent portrait photograph of Wyatt Earp seen below was taken in 1870 in Quincy, IL. A sizeable reward is being offered in this report for the matching (missing) one of Wyatt's first wife Urilla Sutherland that we know is somewhere out there in the public domain.
Click here to read the online story.
Watch Marshall Bulle and Gary Stover Discuss the Wyatt Earp Portrait Photograph