Hidden Treasures of the Black Range:
This may be be one the most interesting stories you will ever read.
It all began when Marshall Bulle, and his childhood friend Larry Ditzer, began searching for an old cannon seen by cowboy Walt Nichols high up in New Mexico's rugged and mysterious Black Range. That cannon, which we filmed out of a helicopter after looking for it for over twenty years, led to the discovery of the location of one of the most sought-after lost gold mines in the Southwest. There are hundreds of outstanding color photos in this 278 page hardbound stitched book that document this unbelievable yet true story.
Click here to learn more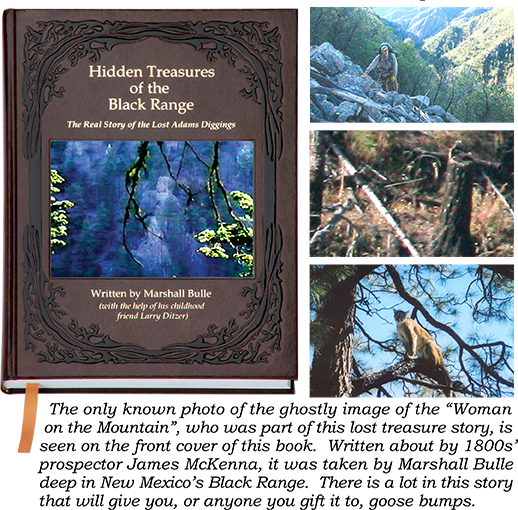 Wyatt Earp -The Lost Story:
This is a fascinating 97 page meticulously documented story of one of America's greatest treasures that has recently surfaced. It has been hidden for well over a century. The magnificent portrait photograph of Wyatt Earp seen below was taken in 1870 in Quincy, Illinois. It is likely worth millions of dollars. A sizeable reward is being offered for certain information regarding the missing matching framed portrait of Wyatt Earp's first wife Urilla Sutherland. We know she is out there in the public domain waiting for some lucky person to find her. This portrait is causing serious heartburn for a few writers who have published misidentified photos of Wyatt Earp in books and western publications. This must read report exposes it all. If you want to join the search, or just want to read about a controversy centered around this portrait that is keeping a few western writers up at night, then you will want to read this spellbinding story. It can be purchased for $29 with free shipping. U.S. only.