Hidden Treasures of the Black Range:
This may well be the most interesting stories you will ever read. There are very few books, with this large number of pages, that readers ever said they read the whole story in one setting, even though it meant staying up most of the night to do so. Several readers have told us this is one of those books.
It all began when Marshall Bulle, and his childhood friend Larry Ditzer, began searching for an old cannon seen by the late cowboy Walt Nichols high up in New Mexico's rugged, wild and mysterious Black Range in the 1950s. That cannon, which we photographed out of a helicopter after looking for it for over twenty years, led to the discovery of the location of one of the most sought-after lost gold mines in the Southwest.
The location of that mine, known as the Lost Adams Diggings, has alluded treasure hunters for well over a century.
There are hundreds of outstanding color photographs in this 278 page hardbound stitched book that document this unbelievable yet true story. This beautiful 9" x 12" hardbound coffee table book (with easy to read large font) can be purchased for
$59.00
Free shipping in U.S.
Click here to place order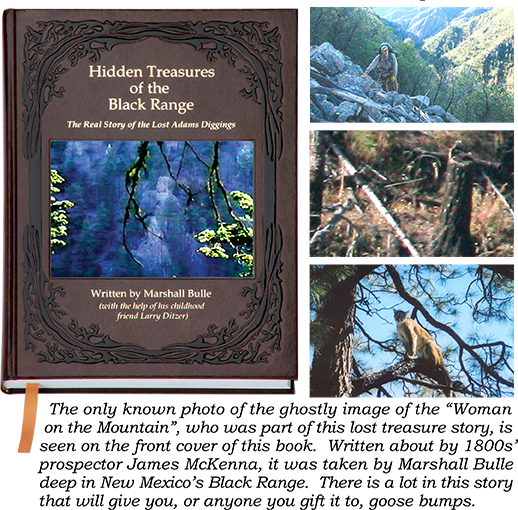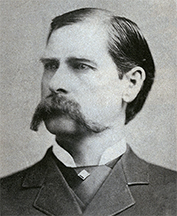 Wyatt Earp -The Lost Story:
This is a fascinating 118 page meticulously documented story of one of America's greatest treasures that has recently surfaced. It has been hidden for over a century. The magnificent portrait photograph of Wyatt Earp (the most famous Old West lawman) seen below, was taken in 1870 in Quincy, Illinois.
Its value is likely in the millions of dollars.
The evidence contained in this new book has caused a few Western writers, who have mistakenly published misidentified photos of Wyatt Earp in their books and magazine articles, a severe case of heartburn. We have heard from historians, and those just interested in Old West history, from all over the country who have read this book. These readers overwhelmingly agree that the evidence found in this book showing this 36" by 22" portrait photo is Wyatt Earp cannot be ignored.
This new 118 page edition also exposes the blatant errors in what we call a "distortion masterpiece." It delves into an article written by Daniel Buck in the Old West History Association Journal, entitled Adventures in Wonderland Identifying Old West Photos. For anyone who has read the article, with no way to crosscheck its accuracy, they may think that this portrait is a fraud. When such a person examines the evidence in this book as well as the indisputable errors in Buck's article, which we cover in detail, they will likely have a different perspective of where the fraud really lies.
The comparison photos in the video seen above are all known photographs of Wyatt Earp.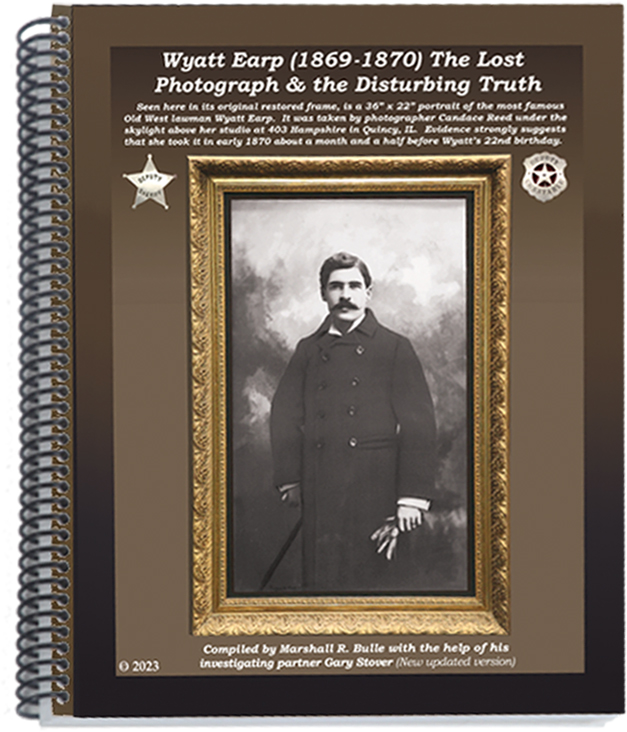 This history making book will give you a new view of the iconic lawman Wyatt Earp.
This book can be acquired for
$39.00
Free shipping in U.S.
Click here to place order
Should the evidence that is contained in this book be combined with some of the many stories written about Wyatt Earp and his first wife Urilla Sutherland, which would include their tender short passionate love affair that ended in tragedy, it would make an incredible classic Hollywood film. One narrative for such a movie would leave sentimental viewers in tears. That narrative is laid out in the last three pages of this book. One lady in Kansas said it gave her the chills.
Aside from the movie potential this thoroughly documented book is the result of likely one of the most time-consuming expensive investigations ever undertaken on any historic portrait photograph. Finding and assembling all the pieces of this puzzle has been exhausting but very interesting. This book is well worth reading.